Leading Logistics Technology
What Is NavigatorTMS?
NavigatorTMS is the logistics industry's premiere Transportation Management System for 3PLs (3rd-Party Logistics Brokers) and small asset-based trucking companies. This software is built to manage every aspect of the business, while also proving to be a significant selling tool offering a compelling ROI. NavigatorTMS is easily the most powerful, user-friendly program on the market today.
3PL/Brokers
A perfect fit for small to midsize 3PLs and brokers that are looking to expand their business.
NavigatorTMS can be the tool to help you reach your goals to maximize the value of your business, and gain trust with your clients to reach revenue numbers you never thought possible.
Carriers
The ideal tool to manage your fleet and gain the efficiencies that are missing due to running your business on a white board or an excel spreadsheet.
It's affordable, trustworthy, and will provide you the opportunity to grow at your pace.
What is your NavigatorTMS ROI?
Operations Team Hourly Rate?
$0/mo
Increase your revenue by charging tracking link fees
$0/mo
Increase profitability and employee efficiency each month
$0/mo
Estimated monthly licensing fee (final numbers may vary)
The Only Tool You'll Ever Need
These Universal features are included in all NavigatorTMS plans:
Web Based Application
Access the system from anywhere or anytime on a laptop, tablet, or mobile phone allowing you to be as mobile as necessary.
Kiosk
Display your active loads, service levels, current weather maps, and a national traffic map on big screens or monitors in and around your office.
Reports
Track corporate financials and trends, analyze customer, sales rep, and operations staff reports with a click of a button to help you make accurate business decisions.
3PL/Broker Features
Get the Universal level features plus the following for all 3PL/Broker Partners:
RFP
The most efficient load booking tool in the industry! Book loads without using a telephone, or through creating mass emails. This revolutionary tool communicates with carriers active in your lanes to quickly cover your loads
CRM
Use the built in CRM to quickly push prospective clients through the sales funnel and gain additional revenue quickly.
Carrier Scoring System
Track a carrier's on-time pickup and delivery percentages to keep your carriers accountable to your business.
Carrier Features
Get the Universal level features plus the following for all Carrier Partners:
Driver Payroll
NavigatorTMS calculates driver payroll based off of deliveries made in the time period of your choosing. Place multiple drivers to a single load when necessary, and let the system assign the correct payroll for each driver.
Track Assets
Keep track of maintenance records, drug screens, insurance coverage for your trucks, trailers and drivers. Set reminders on the NavigatorTMS calendars to avoid maintenance issues.
Eliminate Deadhead Miles
NaviatorTMS will calculate deadhead mileages for each of your loads, allowing you to determine average deadhead miles for each of your drivers and your entire business in general so that you can make decisions on which lanes are most profitable.
Stay productive on the go
with NavigatorTMS

Our best-in-class Android and iOS apps bring the power of NavigatorTMS to the palm of your hand.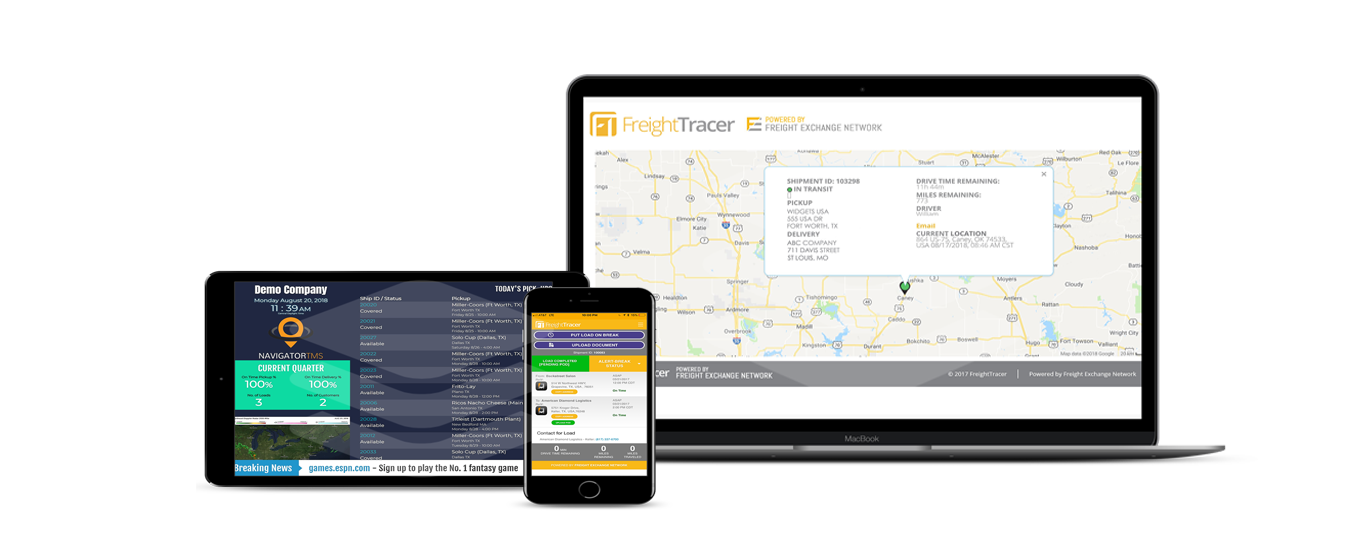 Want a closer look at NavigatorTMS?

Schedule a demo to see how all these features and more can work for your business.